121212 UpStage Festival of Cyberformance
I'm Never Going to Dance Again – Dan Untitled's Afterparty – Dan Untitled (NZ)
ANGRY – Annie Abrahams (France) & collaborators, streaming interface: mosaika.tv by Ivan Chabanaud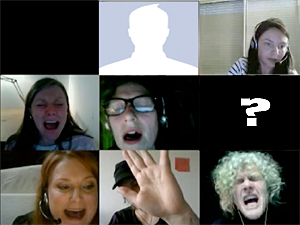 The 121212 UpStage Festival of Cyberformance (live online interactive events created and presented for online audiences) will take place 5-12 December 2012. The festival will feature 38 performances created and presented in UpStage and a variety of other online platforms (including Water-Wheel's the Tap, SecondLife, Visitors Studio and other purpose built networked environments).
The 121212 UpStage Festival presents a programme of online performances that can be watched from Internet-connected computers anywhere in the world – traversing time zones and the globe for multi-cultural, multi-lingual performances by emerging and established artists.
UpStage, a web-based platform for online performance was first launched in 2003, and has hosted an annual cyberformance festival since 2007. 121212 will mark the sixth UpStage festival (previous festivals include 070707, 080808, 090909,101010 and 11:11:11), and also a turning point for the event in the retrospective aspect (Walking Backwards into the Future) and in opening the festival out to platforms other than UpStage (Testing 1 2 1 2 1 2). 121212 will be the last time the festival can use this date format, and it is also this year UpStage is working to launch a new engine for the UpStage platform; DownStage – extending the possibilities of future performances.
The festival will consist of two parts:
"Walking Backwards into the Future" – a programme of 19 restaged cyberformances from the past five UpStage festivals (5-11 December) http://upstage.org.nz/blog/?page_id=3430
"Testing – 1 2, 1 2, 1 2" – new works in UpStage and other networked platforms (12 December 2012 – with a bit of 11th and 13th depending on your location). http://upstage.org.nz/blog/?page_id=3447
All of the performances will be available to online audiences, via standard web browser and will be projected at physical sites around the world (called Real Life access nodes). The schedule page contains links to the shows, and time converters and will become live once the festival starts. The UpStage environment http://upstage.org.nz:8084 becomes the hub of the festival with a 'foyer' stage operating throughout the 121212 event. The two festival architects and guest hosts from the UK, Europe and USA will discuss shows, answer queries and host a central point for artists to relax and engage with audiences between shows.
The 121212 UpStage Festival of Cyberformance is organised by Festival Architects Vicki Smith and Helen Varley-Jamiesion, with a team of dedicated artists and volunteers.
A full programme of performances in the festival is available on the UpStage website http://upstage.org.nz/blog/